Aug 29 2011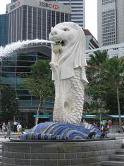 In Asia is a lot of opportunities for Small and Medium Enterprises to expand a current business model. There are actually 2 locations where you can start your
business! Singapore and Hong Kong! A few reasons why you should start with your business model in Singapore:
Pro-business environment
There is no better choice to start your Asian company than in Singapore! One of the most business friendly climate in Asia. General information you can find here. Set up fee, government fee and the whole process is smooth! Company might be opened into a few days upon receiving the funds. You start invoicing your Asian partners or simply use our address as a branch office. There are not difficult yearly requirements e.g. monthly reporting or difficult business registration and burdens from Singapore government. Hong Kong and Singapore have been ranked past 3 years among 5 most efficient cities (countries) on the world by many internationals ranking agencies!  Singapore is ranked 5th in the world and 1st in Asia for having the least corruption in its economy. Singapore is among the top 3 in foreign trade and investment.
Attractive tax regime
You can refer to SINGAPORE – Tax Exemption Compnay – Startup
Strategic location
Singapore lies at the center of a major sea route connecting the Far East to Asia, Europe, and the Middle East, which gives the country its strategic importance.