Jun 25 2012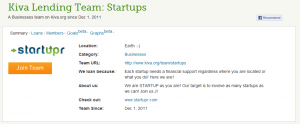 We are happy to announce that Startups team on Kiva has made a loans worth of 1,700 USD. Thanks to all of our co-workers.
You can see more at: http://www.kiva.org/team/startups
Become one of us and support another entrepreneurs with lower opportunity to a finance.
Each startup needs a financial support regardless where you are located or what you do! Here we are!
About Kiva – "We are a non-profit organization with a mission to connect people through lending to alleviate poverty. Leveraging the internet and a worldwide network of microfinance institutions, Kiva lets individuals lend as little as $25 to help create opportunity around the world. Learn more about how it works."
We know that it's quite stressful if you start a new company and you are without finance. Kiva is really good oportunity how to raise a small amount of money.
Your Startupr & here check our Kiva's team