Jul 3 2012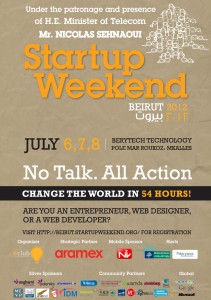 Startupr.com has become traditionally the sponsor of a several Startup events in general. We are happy to see that our logo has appeared between one of the most interesting companies on the world. Google, Microsoft and Startupr.com is between these two.
It's just a small piece of work we do here in startupr and we do really appreciate and being honored that we have a chance to become part of big sponsor family.
Startupr is striving to offer the international company formation platform and to solve the first stage of the company setting up.
Startup Weekend is the gathering and brainstorming event supporting the further company incorporation.
By organizers:
Did you know that Startup Weekend is a global network of passionate leaders and entrepreneurs on a mission to inspire, educate, and empower individuals, teams and communities. Come share ideas, form teams, and launch startups. Visite our website and join our community!
We have a few news in regards to company formation. We are really trying by hard to become the fastest company formation provider. Watch our news/blog.
have a great day